Explore and stay informed on local and national topics, people and events in areas such as business, health, education, jobs and careers, political and social issues and more.  Features a wide variety of credible, vetted news sources spanning the U.S., including the Providence Journal, The Independent and Standard-Times.  Also available remotely 24/7 on any device.
Explore Rhode Island history through local news, events and people with the Providence Journal Collection. Search current and archived issues with full-color newspaper pages, full-text articles and content only published online. Available remotely 24/7 on any device.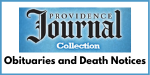 Search obituaries and death notices from the early 1980's to current.  Updated daily, this collection contains valuable genealogical information such as occupation, avocation, education, military service, religious affiliation, family members, colleagues and more. Available remotely 24/7 on any device.