Programs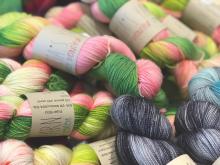 A monthly group for anyone interested in fiber arts such as knitting, crocheting, spinning, and embroidery. A social group for those at all stages. We'll even teach you how to get started!
Kathryn Ford Richter, RN, will guide you through a yoga a experience. Bring your own towel, mat, and/or blocks.

This program has been cancelled by the presenter. We will have our last Gentle Yoga program for the season in June. You can find more information at https://nklibrary.libcal.com/event/5397922
We're moving to a new platform for our events calendar and program registration. We're excited to announce this feature which we think you will find easy to use. Program registration will no longer require a library card and PIN number. Please contact the library with any issues you may have with the site or with program registration.