Mobile Printing comes to the North Kingstown Free Library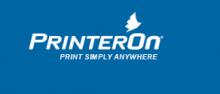 The Library has launched PrinterOn mobile printing. Patrons can print while at the library, or send a document for printing from home or wherever they may be, then pick it up at the library within 24 hours. Use your smartphone, tablet or PC.

Just use the webpage address www.printeron.net/osl/nkfl to go to an online webpage form. Fill out the form and click on the green printer in the lower right corner.

Interested in Installing an app?
Go to www.printeron.com/apps.html and select the app that fits your device.